OUR CREW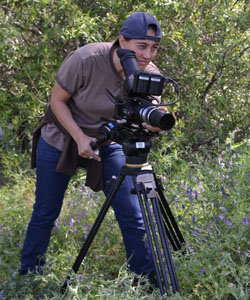 Laleh Soomekh
Director of Photography


Laleh Soomekh's ability to transform a vision into art is without parallel. Methodical, precise, and efficient, Laleh is able to truly incorporate both the fundamental basics of good film making with her etherial way of filming. Laleh's strength? -allowing the film makers vision to come to life without compromising the integrity of the story. She waded rivers in the South, hung off horses and trudged the tenderloin to capture the true essence of who we are.
Beginning her professional career as a photographer, Laleh shot portraits for a variety of news publications. Her education - A degree in documentary film making from Stanford University, and with her education came a Gold Student Academy Award for her film. Immediately out of Stanford, Laleh was recognized by one of Filmmakers Magazine as one of the twenty-five filmmakers to watch for, and her independent documentaries have screened in over 80 film festivals internationally, winning numerous awards, screening on many PBS stations, and receiving critical acclaim.
In addition to making her own films, Laleh produces, directs, and shoots for television including "Law and Order: Crime and Punishment" for NBC, "Inside Out:Toni Braxton; Family Comes First" for VH1, "In the Moment: Julie Roberts" for CMT, and "DUI" for TLC. She also shot for the Independent Lens Series on PBS and a variety of other Documentary Films. We are very privileged to have her as the Director of Photography on the film "American Courtesans".